Global commerce set to bypass the West, intra trading across SAAAME region to rise, says PwC report
India presents a big opportunity as people's risk appetite is increasing
Rapidly accelerating growth and increased intra- trading across South America, Africa, Asia and the Middle East (SAAAME) is leading to a radical shake-up in the competitive environment for financial services businesses, both within the SAAAME region and beyond, according to a report "Project Blue: Capitalising on the rise and interconnectivity of the emerging markets" released today by PwC.
The report highlights that the interconnectivity of intra- SAAAME trade and investment flows is as significant as the growth and projected size of the emerging markets. These flows are growing much faster than the traditional routes from developed-to-emerging and developed¬to-developed countries (see figure 1 below). Within SAAAME, there are pockets of particularly high trade growth, notably between Asia and Latin America and between Africa and the Middle East.
Amongst the emerging markets, India presents a big opportunity as people's risk appetite is increasing. The challenge, however, is to make sure that pursuit of these opportunities does not lead to mis-selling, or risk creating a market bubble. This will require both effective regulatory controls and a more mature distribution structure led by a well- supported independent financial adviser network.
The second key market opportunity is financial inclusion. Banks are developing 'no frills' accounts to draw in unbanked customers. The country's well-developed mobile phone network also provides a platform for bringing services into remote and poorer communities quickly and efficiently. The challenge is how to deliver consistent profits from these operations.
Manoj K Kashyap, Leader — Financial Services, PwC India, said, "The rise and interconnectivity of the emerging markets of SAAAME is in many ways the most far-reaching of the developments facing the financial services (FS) sector. Trade within SAAAME is growing much faster than the flows between developed-to-developed and developed-to¬emerging markets. India's businesses are well-placed to take advantage of this shift in the focus of global growth and investment. Yet, they face strong competition from Chinese, Brazilian and other SAAAME multinationals, as well as businesses from the West. New approaches to growth and organisational design may be needed as a result."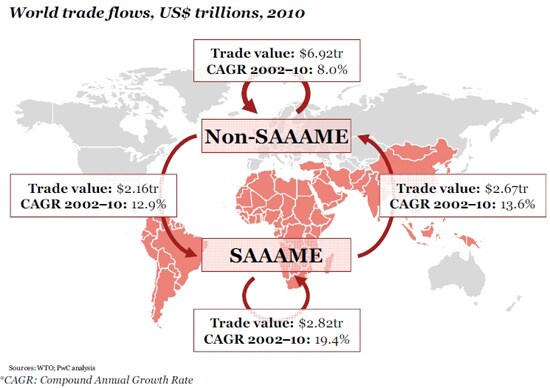 The report also points out that one factor effecting development in the securities markets in India is that unlike most other countries, bank deposits pay higher rates of interest as compare d to other investments.
Although India's banking sector is growing rapidly, difficulties in securing licences, tight restrictions on foreign ownership (5% limit for each firm and 74% overall) and restricted voting rights have deterred inbound investment in the sector. A more favourable route is investment in non-bank financial institutions (NBFCs), which allow 100% foreign ownership and offer access to fast- growing segments such as mortgages, vehicle finance, credit cards and stock broking.
Robin Roy, Associate Director — Financial Services, PwC India said: "India's financial institutions have developed rapidly in recent years. But they can no longer rely only on the country's GDP growth to deliver assured profitability and expansion. They will need to meet rising customer expectations, increase financial inclusion as part of a larger national inclusive growth agenda and support corporate clients as they reach out to new international markets. Failure to keep pace could leave some players at risk of losing business to faster moving competitors, including Western or SAAAME groups.
END
Notes to Editor:
'SAAAME' refers to South America, Africa, Asia and the Middle East. SAAAME doesn't include Japan as this is a developed G7 economy. Mexico is excluded as it trades mainly within the North American Free Trade Agreement zone and less with SAAAME. For now, Russia and the Commonwealth of Independent States (CIS) are also excluded from SAAAME, as its trade is largely internal or with Europe.


"Project Blue: Capitalising on the rise and interconnectivity of the emerging markets" is part of PwC's ongoing research on the future of financial services, known as Project Blue. To find out more about this work, please visit www.pwc.com/projectblue
PwC has set out a framework for considering these current and future trends: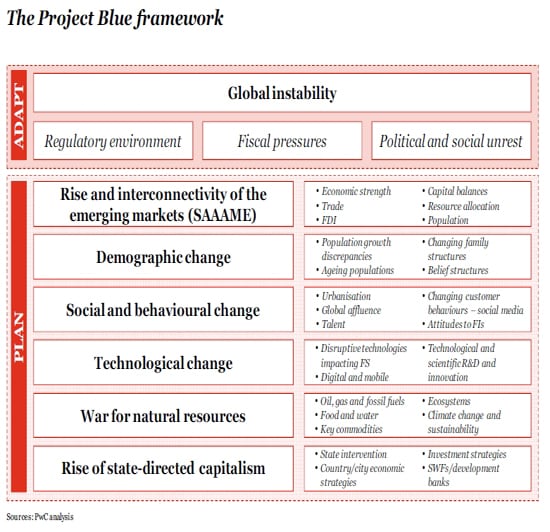 About PwC
PwC firms help organisations and individuals create the value they're looking for. We're a network of firms in 158 countries with close to 169,000 people who are committed to delivering quality in assurance, tax and advisory services. Tell us what matters to you and find out more by visiting us at www.pwc.com.
In India, PwC (www.pwc.com/India) offers a comprehensive portfolio of Advisory and Tax & Regulatory services; each, in turn, presents a basket of finely defined deliverables. Network firms of PwC in India also provide services in Assurance as per the relevant rules and regulations in India.
Providing organisations with the advice they need, wherever they may be located, our highly qualified, experienced professionals, who have sound knowledge of the Indian business environment, listen to different points of view to help organisations solve their business issues and identify and maximise the opportunities they seek. Our industry specialisation allows us to help co -create solutions with our clients for their sector of interest.
We are located in these cities: Ahmedabad, Bangalore, Bhubaneshwar, Chennai, Delhi NCR, Hyderabad, Kolkata, Mumbai and Pune.
2012 PricewaterhouseCoopers. All rights reserved.