TransitionIFRS methodology
Rapid-GAAP methodology
PwC has developed a flexible and time-efficient methodology called Rapid-GAAP methodology. Rapid-GAAP enables an efficient and effective transition to IFRS with minimum required changes. This is relevant for all companies falling in Phase I timeline of IFRS implementation and other companies directly intending to have IFRS set of financial statements.
TransitionIFRS methodology
Through 12 years of successful conversions across Europe, Asia and the US, PwC has developed and honed a leading practice methodology called TransitionIFRS. This can serve as a basis for you to consider in developing an approach to your own unique conversion process, positioning you to address your specific needs.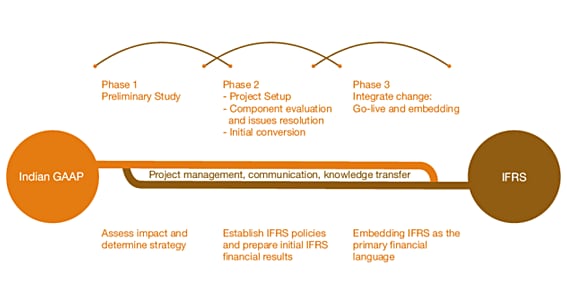 Features of the TransitionIFRS methodology
Implemented by a broad network of experienced conversion specialists
Considers the broader impact on the business, such as, accounting policies, people, financial reporting, tax and other business processes and systems, stakeholder management, statutory reporting and communications.
Used by more than 1,300 companies
Scalable and responsive to the unique complexities of each client's business
Establishes clear objectives with the client in the planning stage
Applies a phased approach to IFRS conversions
Is a framework that is supplemented by deep business process and technical accounting and systems skills